IMPORTANT SOFTWARE UPDATE!
To enhance your viewing experience, a critical software update on some set-top-boxes is required before January 02, 2021.
Please ensure that you have the latest software version to avoid viewing disruption. This update is only applicable to and required for IRDETO Software users (shown in the table below).
HOW TO UPDATE YOUR SOFTWARE
If you don't have the latest software version, please follow the below instructions:
Tune to beIN SPORTS HD1
Click on Menu > Settings > System
Click on IRDETO Software update and accept the update.
For more information, visit https://www.bein.com/en/contact-center/
VERIFY YOUR SOFTWARE UPDATE
Click on beIN > Setting > system > system information
Check the software version
In order to ensure you have the latest software version and avoid any viewing disruption, please cross check the software version of your set-top-box with the tables below, this table shows the latest version of software: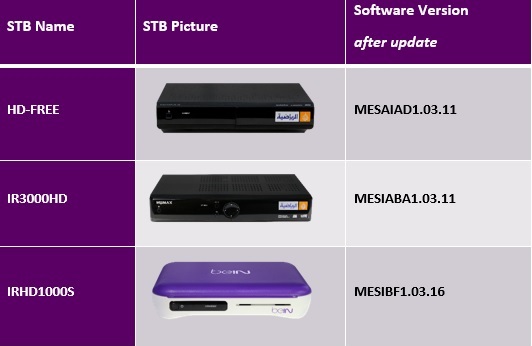 Now continue enjoying the best of sports and entertainment on beIN!